Dear Patients
We hope you are staying safe and healthy, and following CDC guidelines of mask wearing and social distancing during this pandemic. We are limiting in office visits in order to reduce risk of infectious transmission. Some issues we can address completely by phone; some, after initial phone consult, and some we will schedule directly to be seen in the office. If you want to make an appointment or have a question for us here are some tips:
If you are currently a patient of ours
for non urgent issues you can call our appointment line 802-251-0958 option 1 .
Kevin will make you a phone appointment and Dr. Jones will call you at the scheduled time (approximately 🙂 ).
for urgent issues you can call our office directly at 802-251-0958 option 0 to speak to Ginny Monday thru Thursday 8:30-4:00, and friday til noon.
After hours you can reach Dr. Jones directly (her contact number is on the answering message).
If you are a new patient
We request you have your primary care physician make your appointment by calling 802-251-0958 option 1. We have found this is the best way to make sure we have all of your medical and demographic information available at the time of your visit. If you do not have a doctor or you are not paying through insurance, you may call directly.
A note regarding emails:
if you are sending photos via email please do not expect a return email from us: we directly download the photos for the visit. While you are able to contact us via email through this website, we do not monitor those emails regularly and you may not get a quick response. A phone call is a better way to communicate urgent issues and questions.
If you are a physician, or need to reach Dr. Jones urgently, you can do so through the website email or by calling the office and dialing option 0.
Thank you for your continued patience.
Sincerely,
Dr. Jones and Staff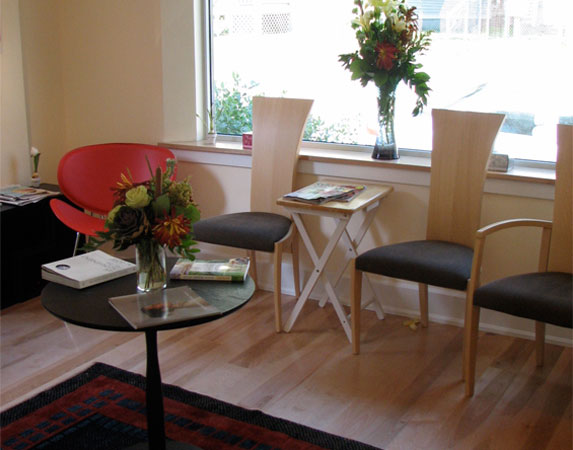 Our goal is to provide
for our patients and
their families: quality
care and compassion,
respect and consideration.
We wish to be a positive
influence in the
healthcare field, and
to deliver good medicine.
{Our office is a "green" space; there are many features in it that are energy efficient, and the materials used are natural and do not have toxic glues or coatings.}